We've been walking around the city the last couple of weeks, camera in hand, taking pictures of Birmingham cinema locations. We've documented both demolished sites and the buildings still standing stoically as a reminder of the heyday of cinema.
Although, sadly, many Birmingham cinemas were demolished, reminders of the popularity of cinema as a pastime hide in plain sight all around the city. Take, for example, the areas of Stirchley and Sparkbrook. At first glance it might not appear as if you're walking amidst any rich history of Birmingham cinema, but if you stop to take a closer look you might notice a few hints at the previous uses of surrounding buildings. Many of these spaces – in which film would reel away in the projection room whilst Brummies would wander in eagerly anticipating the screening – still cater to communities just like they did over a century ago, albeit for a different purpose now.
Read on for a few examples of Birmingham cinemas – then and now.
The Empire
Planning to rent a car in Stirchley for your next trip and thinking of using Enterprise Cars on Pershore Road? This business operates within a building that used to be known as The Empire, small local cinema that first opened its doors in 1912 and closed in 1950.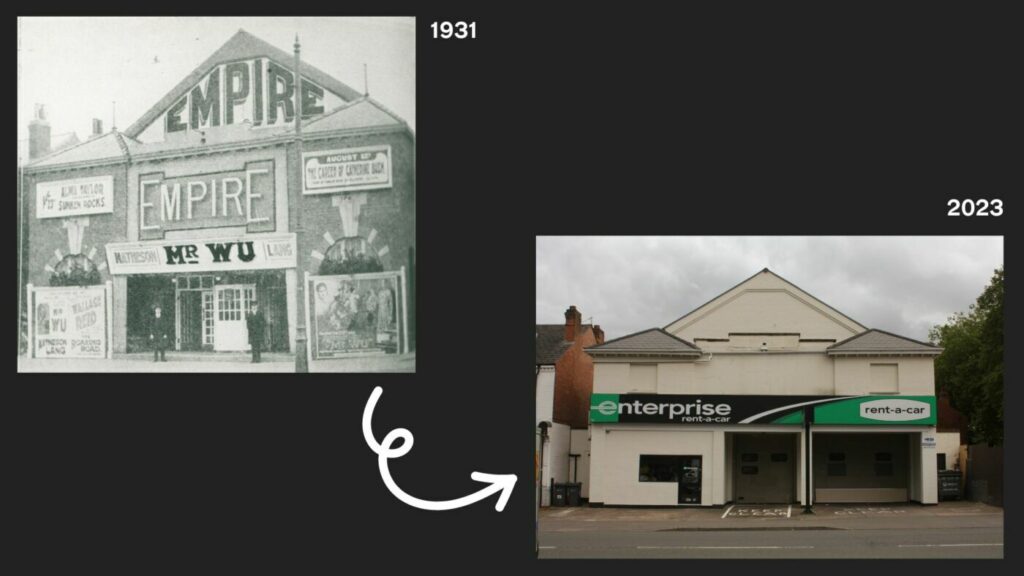 Ladypool Picture House (New Olympia)
Previously the Ladypool Picture House (and also briefly the New Olympia in 1919-21 when "talkies" were introduced) now hosts the family run supermarket, Raja Brothers, a wonderful bright green haven of Asian food. Next time you enter for a shop, notice the tall façade sticking up above the general height of its surrounding houses, looking much the same as when the building operated as a cinema until it closed in 1958.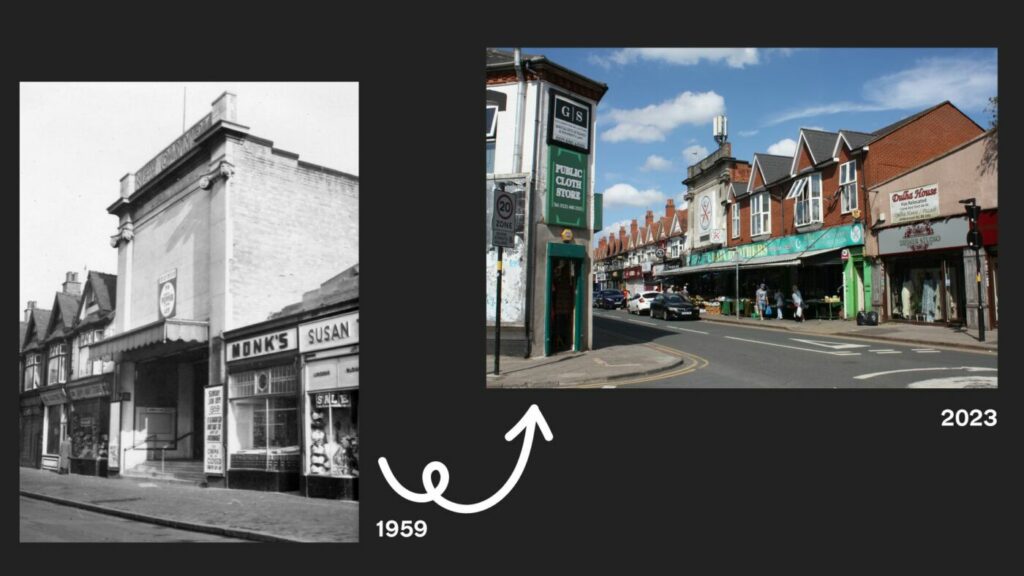 On Stratford Road, Piccadilly Banqueting Suite was once a cinema that held up to 2,050 people. It had a Compton organ installed from when it opened in 1930 and even had its own newspaper for a time which was called, "The Piccadilly Mirror". It later became known as the ABC Sparkbrook as the Associated British Cinemas took it over until it closed in 1974. After this, under its new name "Dreamland", it re-opened showing Asian films and became well known for this until it became the banqueting suite and events venue we see today.