Written by Ian Francis
I visited Eric Turland at his home in Poole in the late summer of 2022. A proud Brummie, he was still basking in the glow of the Commonwealth Games and happy to see his hometown showing its best side on national telly. On the eve of his 98th birthday it was a privilege to spend some time with 'Britain's oldest living cinema organist', and I was keen to get a sense of what the job was like. In many ways the cinema organist was the last remnant of the army of musicians who used to accompany films before the advent of talking pictures. Still playing beyond the war and well into the 1960s, these suited gents – the vast majority were gents – would perform during the interlude every evening, as well as supplying the tunes for special events and kids matinees. I began by asking Eric how he got into music.
This was in April 1942, a time when the city was a regular target for German bombing raids. Typically Eric was more concerned about the threat to his instrument than his life.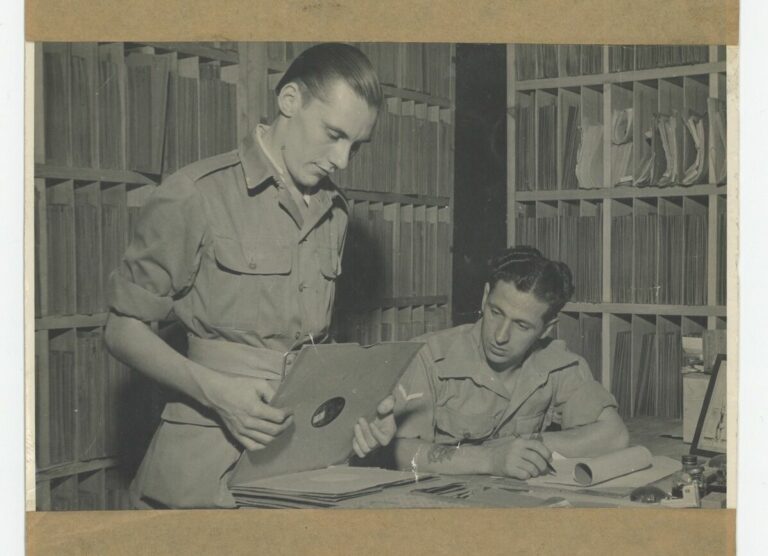 Eric (left) in the record library in Basra in 1946.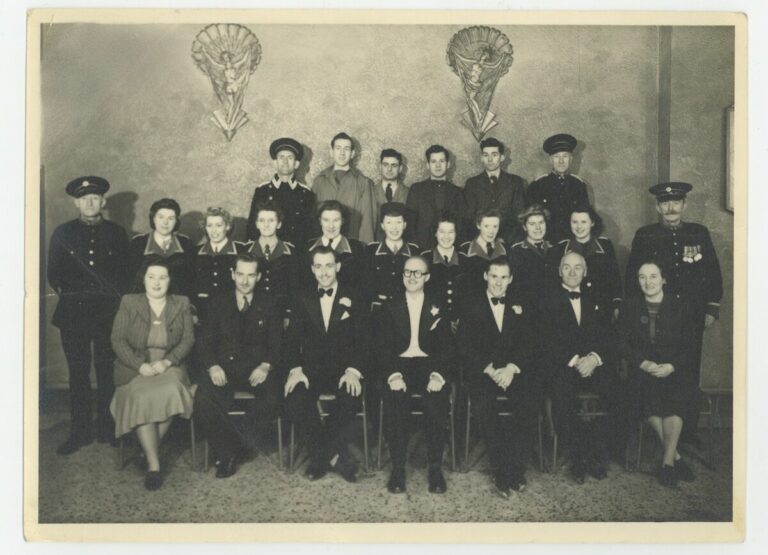 Pavilion staff photo, 1947. Eric is on the front row, third from the right.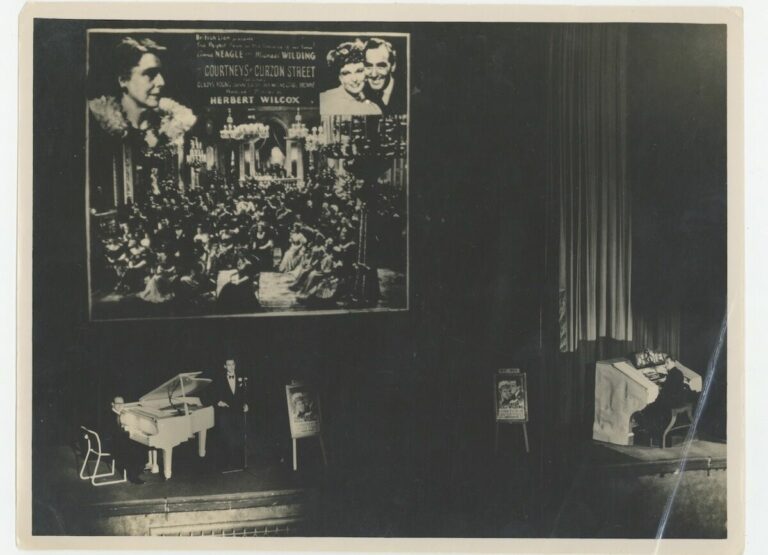 Musical interlude at the Pavilion in 1947. Eric is on the Christie.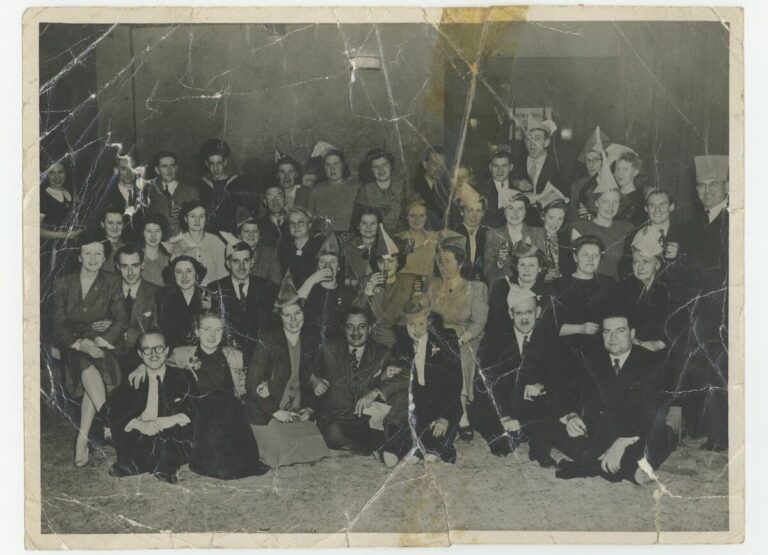 Pavilion staff Christmas party, 1947. Eric and Lilian are in the third row on the right hand side.
Eric used to squeeze in extra bits of work where he could, whether it was playing piano in a dance band at the Balsall Heath Institute or night shifts fire-watching at the cinema. Then as soon as he turned 18 he had to sign up for the army, and by the end of 1942 he was stationed in Omagh doing his basic training. "I wasn't really one for running about with a rifle, sticking bayonets in dummies, so I applied to join the stretcher bearers." After medical training and various postings around England he found himself sailing to Italy in early 1944, landing in Naples after three weeks. "I enjoyed Italy. I didn't enjoy the fighting, but I enjoyed the country." Eric's unit were soon involved in Monte Cassino, one of the war's bloodiest battles, and following months of action they moved north to Rome.
This led to a stint with forces radio in Basra after the war ended, first in the record library and then playing Benny Goodman and Frank Sinatra requests for troops in the Middle East. When Eric was finally demobbed in 1947 he dusted off his monkey suit, this time playing at the Pavilion Cinema in Stirchley: "At first I didn't enjoy it as much as the Piccadilly – they were more of a toffee-nosed audience, if you get what I mean." With cinema admissions still buoyant in the late 40s, there was a lively social scene for those working in picture theatres. By this point Eric's father had followed him into the business, assistant managing the Oak in Selly Oak, and there were regular get-togethers with the other five ABC organists in the area. He also had a friend who managed the Beacon in Smethwick, and one evening he was asked to play piano at the cinema to complement a new release called The Jolson Story. He got talking to a woman on the cash desk, and the following year Eric and Lilian were married. Back at the Pavilion, he was kept occupied with interludes, promotional gimmicks and kids matinees. As for most ABCs, one of the busiest times of the week was Saturday morning when a thousand kids would descend on the cinema for the ABC Minors Club.
The 'Pav' was a suburban picturehouse and didn't get too many big stars visiting, but Eric does remember Richard Attenborough appearing at a showing of Brighton Rock in 1948. "And the manager said to me 'Can you take Mr Attenborough up to the cafe and buy him a coffee and a cake or something?' Because he wasn't very well known was he, it's only his second film. So I took him up to the cafe, bought him a cake and coffee. It was a Saturday evening, and he suddenly said to me, 'Is there a shop round here I can get a sports paper?' I said, 'Yeah, why?' 'I want to see how Chelsea got on.' So I got one of the doormen to go out and get him this paper from the newsagent opposite. He was ever such a nice fella."
By 1950 film attendances were beginning to drop and it was clear that the cinema organist's days were numbered. "I had the chance of a job at Cadbury's playing the organ in the concert hall there and I thought, right, that sounds a bit more sensible. Well, the hours were more sociable. And if I stay at the Pavilion, I'm going to be out of work in a couple of years' time. I could see which way the wind was blowing." He traded a drop in income ("from eight pounds a week to five and something") for a steadier life at Cadbury, although he would carry on playing for the ABC Minors on a Saturday. Then in 1953 the Pavilion's organ had to make way for a larger screen, and – aside from the occasional one-off gig – Eric's cinema days were over.
Lilian also worked at the chocolate factory, packing Wispa bars, and when they both retired in the early 80s they decided to move to the south coast. Sadly Eric lost Lilian in 2001, and he has stayed on in the same house in Poole. In the spare bedroom there's a Hammond organ he bought for himself from Lewis' department store as a retirement treat, and although his health is not brilliant these days he still plays when he can; if the kids in the neighbourhood have a birthday, he will ring them up and play 'Happy Birthday' down the phone. As a parting gift I gave Eric a miniature of the Piccadilly for his mantelpiece: "it's just like the real thing, except this one's still got the doors on it." Film only accounted for a small part of Eric Turland's working life, but as for many others we spoke to it was clear that his cinema experiences had shaped him for good.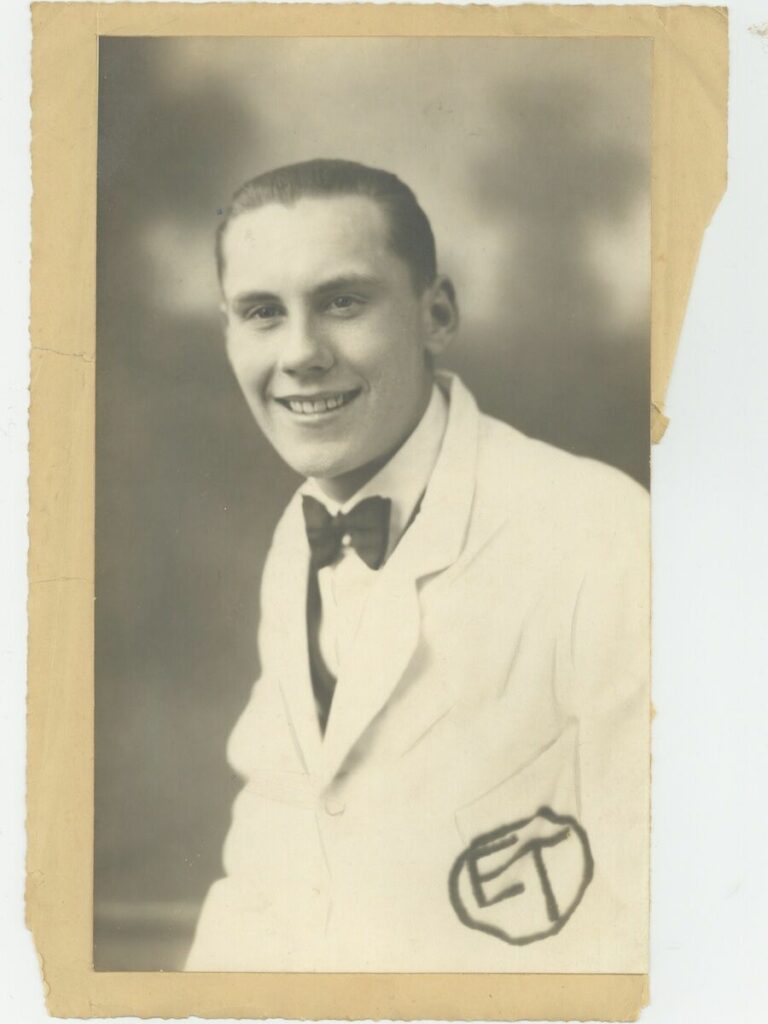 Eric in his band uniform in 1942. His mother sewed his initials onto it.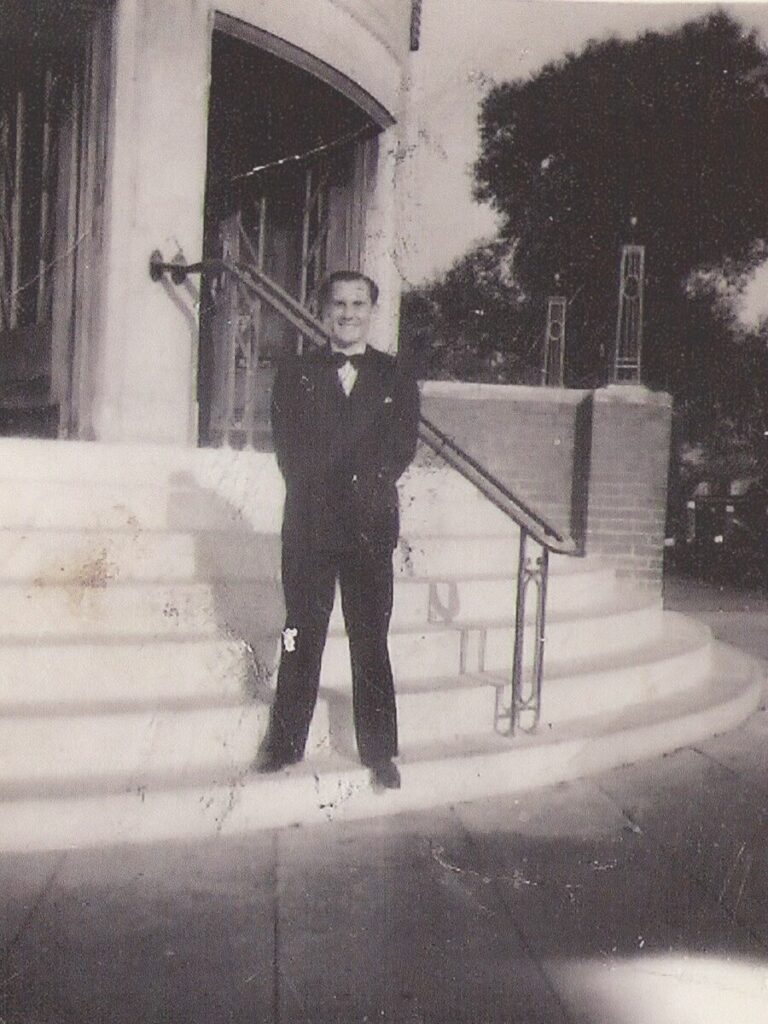 Eric standing outside the Pavilion in 1947.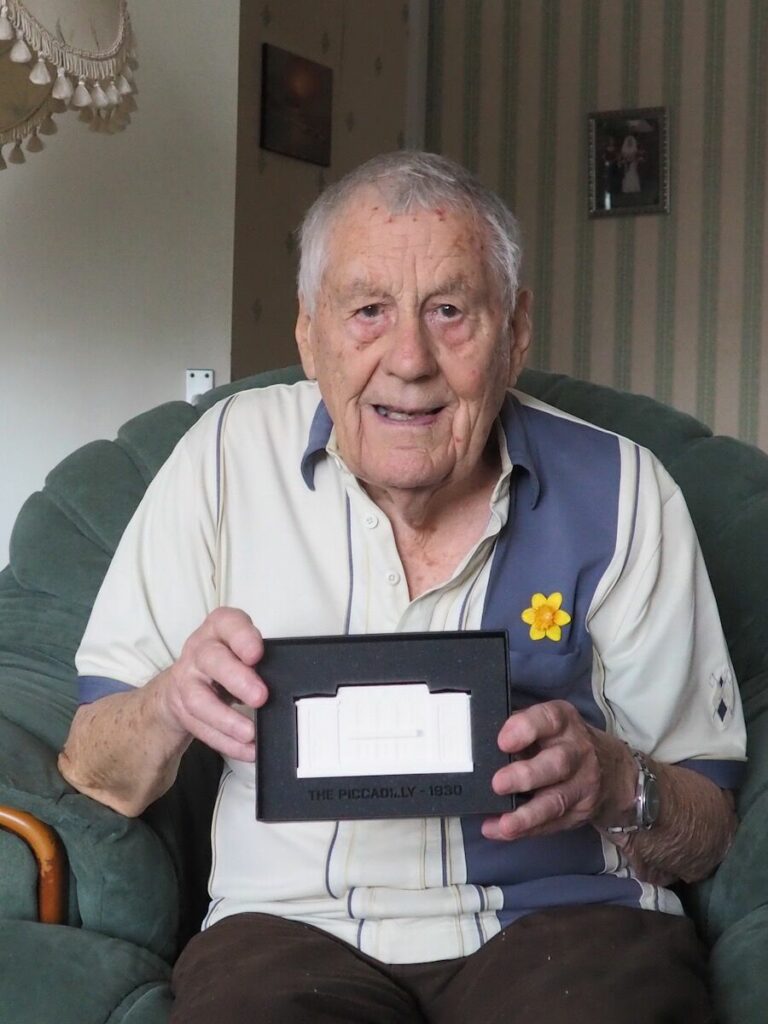 Eric at home in Poole in 2022, with miniature Piccadilly.